AEVUM ANTIQUUM - 2015 - 15
digital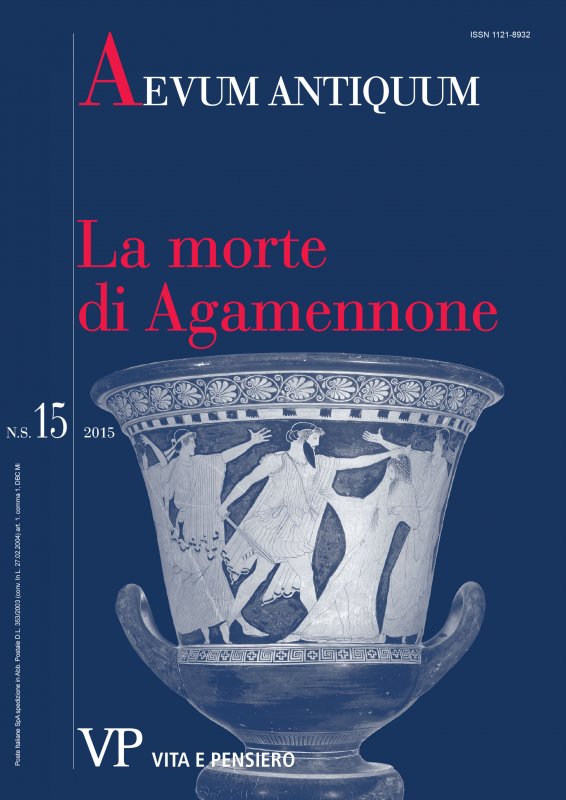 Ebook in formato Pdf leggibile su questi device:
Il numero 15 di Aevum Antiquum è dedicato al tema della morte di Agamennone come rappresentata nella poesia greca e latina e nelle fonti iconografiche greche, latine e italiche. L'articolo principale del FORUM è ad opera di Isabella Nova. Nova riconosce su un cratere a figure rosse (Boston, Museum of Fine Arts 63. 1246) databile intorno al 475-465 a.C. la prima occorrenza di una versione di questo episodio mitico diversa da quella che verrà proposta nell'Orestea di Eschilo; si tratta di una versione forse già presente in composizioni poetiche greche ora perdute, e che riemergerà in opere più tarde, in particolare nella tragedia Agamennone di Seneca: l'eroe argivo, prima di essere colpito da Egisto e da Clitennestra è immobilizzato con uno speciale chitone privo di aperture per la testa e le braccia, intessuto a questo scopo dalla moglie. Partecipano alla discussione G. Aricò, L. Castagna, L. de Giovanni, P.J. Finglass, E. Medda, C. Roscino, A.H. Sommerstein, R. Viccei.

Issue 15 of Aevum Antiquum discusses the topic of Agamemnon's death as represented in Greek and Latin poetry and in Greek, Latin and Italic iconographic sources. The main article of the FORUM is by Isabella Nova. She recognizes in the representation of Agamemnon's killing on a krater (Boston, Museum of Fine Arts 63.1246) dating to 475-465 BCE the first occurrence of a lesser known version of this mythical episode, different from the one later popularized by Aeschylus' Oresteia; this version was possibly elaborated in earlier Greek poetic compositions now lost, and would resurface in Hellenistic and Latin sources, especially in Seneca's tragedy Agamemnon: the hero is trapped in a special robe with no openings for the head and the arms weaved by his wife. G. Aricò, L. Castagna, L. de Giovanni, P.J. Finglass, E. Medda, C. Roscino, A.H. Sommerstein, R. Viccei contribute to the discussion.
FORUM - AGAMENNONE
CONVIVIUM
Chi ha visto questo prodotto ha guardato anche...
Archivio rivista
In evidenza