COMUNICAZIONI SOCIALI - 2013 - 3. The responsibility of knowledge. The values of critique and social relevance in research on communication and culture
digital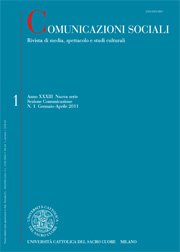 Ebook in formato Pdf leggibile su questi device:
This special issue stems from the debate that has been developed within the Cost Action ISO906 Transforming Audiences Transforming Societies (TATS) around the policy implications of scientific knowledge produced in the field of audience research.
Articoli che parlano di COMUNICAZIONI SOCIALI - 2013 - 3. The responsibility of knowledge. The values of critique and social relevance in research on communication and culture:
Chi ha visto questo prodotto ha guardato anche...
Archivio rivista
Ultimi 3 numeri
Annate disponibili online
Fascicoli anno
2013
In evidenza