COMUNICAZIONI SOCIALI - 2014 - 2. Raccontare le soglie della vita. I temi bioetici di inizio e fine vita nel cinema e nella serialità televisiva
digital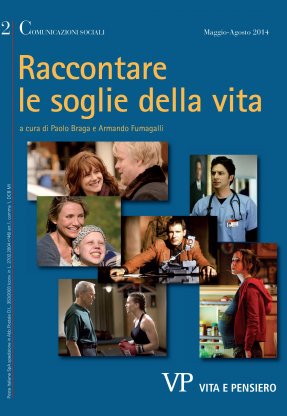 Ebook in formato Pdf leggibile su questi device:
Come testimonia un'ormai consistente produzione di film (e di serie televisive o di puntate di queste), la bioetica è un ottimo argomento di racconto per lo schermo. È un campo generoso di spunti, perché ricco di dilemmi morali, che sono, come ribadiremo tra poco, elemento essenziale a rendere una storia coinvolgente. Offrono materiale drammatico le possibilità e le incognite della genetica. Lo offrono le scelte medico-sanitarie che hanno a che fare con opzioni di vita e di morte dei pazienti. Lo offre la libertà di questi ultimi di fronte a possibilità di intervento cresciute esponenzialmente insieme con gli interrogativi sulla loro liceità e sulle loro implicazioni. Ancora, le questioni bioetiche sono un tema attuale, oggetto di dibattito pubblico e di contrasti accesi. Un altro elemento, questo, congeniale al cinema che ha una vocazione a generare eventi culturali, ad inserirsi nelle fratture della contemporaneità per coagulare attenzione e sentimento. L'industria della serialità televisiva più raffinata lavora seguendo coordinate analoghe. Con questa consapevolezza di fondo, il volume monografico che introduciamo ha voluto affrontare il binomio "bioetica-racconto audiovisivo" attraverso una serie di analisi testuali. Contributi dedicati a titoli che rientrano nel mainstream internazionale, sia pure spaziando: da grandi produzioni che hanno conquistato ampia risonanza nell'immaginario narrativo contemporaneo (Juno, Million Dollar Baby, Gattaca, Blade Runner, Scrubs) a film indipendenti o semi-indipendenti (La famiglia Savage, La custode di mia sorella) e serie di nicchia (Boss).


The monographic issue "Narrating the Thresholds of Life. The Bioethical Themes of Beginning and End of Life in Cinema and TV series" addresses the subject of cinematic storytelling on bioethical matters through a series of textual analyses. The works taken into account in the essays can all be considered as products belonging to the international mainstream, even if the kind of production varies: from studio features that have gained a relevant place in contemporary popular culture (Juno, Million Dollar Baby, Gattaca, Blade Runner, Scrubs) to independent or partially independent movies (The Savages, My Sister's Keeper) to TV series targeted to selected audiences (Boss). 
La nuova Bussola: Dove andiamo al cinema? Guide per sapere e scegliere
pubblicato il: 05-02-2015
Archivio rivista
Ultimi 3 numeri
Annate disponibili online
Fascicoli anno
2014
In evidenza