COMUNICAZIONI SOCIALI - 2015 - 1. Sixty years of Italian TV
digital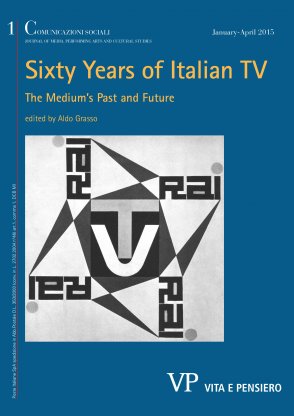 Ebook in formato Pdf leggibile su questi device:
La RAI, Radiotelevisione italiana, ha compiuto nel 2014 sessant'anni, avendo inaugurato ufficialmente le trasmissioni il 3 gennaio 1954. Un compleanno che coincide con quello dell'arrivo della tv in Italia. Sessant'anni di storia sono molti, moltissimi se rapportati al calendario della tecnologia. In poco meno di un decennio, grazie ai media digitali, a Internet, la tv ha subito un cambiamento radicale: il passaggio dal tradizionale segnale analogico a quello digitale, per esempio, ha generato nuove dinamiche di fruizione e l'emersione di nuovi immaginari sospesi, come sempre accade, tra l'euforia della scoperta «magica» e il terrore di possibili effetti negativi. Ma per oltre mezzo secolo, la tv è stata il medium egemone del '900 e ha svolto un preciso ruolo sociale, alimentando un'esperienza tanto diffusa quanto condivisa per gli spettatori, riassumibile nella semplice espressione: «guardare la tv». Per molto tempo, dunque, guardare la tv è stato come guardare un nuovo mondo, una scoperta di inestimabile valore. Se si vuole provare capire cosa rappresentino sessant'anni di tv, è necessario affrontare la storia del medium abbandonando un filtro che a lungo ha accompagnato il dibattito storiografico sul piccolo schermo: quello della nostalgia. A lungo, l'età del monopolio RAI è stata interpretata come una sorta di età dell'oro, includendo nel suo "canone storico" solo alcuni generi e prodotti dominanti: lo sceneggiato, i programmi educativi e culturali, i grandi varietà di studio. L'archeologia della tv deve però solo farci capire le caratteristiche essenziali della storia del medium in Italia senza mai piegarsi a un filtro interpretativo nostalgico.
I saggi contenuti nel numero 1/2015 Sixty Years of Italian TV. The Medium's Past and Future (curato da Aldo Grasso) dialogano con i sessant'anni di vita della televisione italiana illuminando in una prospettiva di storia culturale alcune questioni che hanno assunto una rilevanza cruciale nel direzionare il rapido percorso di istituzionalizzazione del piccolo schermo in Italia e poi alcune delle sue principali successive trasformazioni, tenendo in considerazione i diversi livelli intrecciati che, in ognuna delle sue fasi storiche, definiscono il medium (per esempio la programmazione, le visioni ideali della dirigenza, il rapporto con il pubblico televisivo, il sistema economico.
Chi ha visto questo prodotto ha guardato anche...
Archivio rivista
Ultimi 3 numeri
Annate disponibili online
Fascicoli anno
2015
In evidenza