Identità e appartenenza nella società globale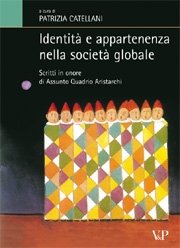 Tra le conseguenze più evidenti dei processi di globalizzazione nella società contemporanea vi è la crisi delle tradizionali categorie di appartenenza sociale e l'emergere di nuove categorie più complesse e instabili. La crescente mobilità, le massicce immigrazioni, il configurarsi di nuove realtà nazionali e sopranazionali comportano una profonda trasformazione delle appartenenze culturali, territoriali e politiche. Al contempo, altre appartenenze rilevanti, come quelle familiari e lavorative, risultano influenzate dai cambiamenti in atto. Quali opportunità di relazione si offrono alle persone in una società globale? Che cosa rimane e che cosa cambia nell'identità di ciascuno di noi? Che cosa è unico e che cosa è condiviso? Psicologia, economia, sociologia, diritto e scienza della politica si confrontano su queste domande, offrendo un quadro articolato delle trasformazioni in atto e delle loro possibili conseguenze. Emergono così alcune dimensioni cruciali per la costruzione di una società che garantisca le condizioni psicologiche necessarie all'equilibrio individuale e alla convivenza civile.

Il confronto con diverse discipline ha sempre caratterizzato l'attività di ricerca, saggistica e didattica di Assunto Quadrio Aristarchi, al quale questo volume è dedicato. Allievo di padre Agostino Gemelli, dal 1961 al 2004 Assunto Quadrio è stato professore di Psicologia all'Università Cattolica, dedicandosi ad ambiti di ricerca in precedenza poco esplorati. Per primo in Italia si è occupato di psicologia politica, gettando le basi di un settore di indagine che, nel corso degli anni, è stato oggetto di attenzione crescente. La riflessione teorica e di ricerca nell'ambito della psicologia giuridica è stata altrettanto feconda, contribuendo in modo sostanziale all'incremento di interesse per la disciplina da parte di studiosi e operatori della giustizia.
Questa attività continua e innovativa ha avuto come esito oltre un centinaio di pubblicazioni, tra cui i volumi: Problemi epistemologici della psicologia (1976), Questioni di psicologia politica (1980), Psicologia e problemi giuridici (1990), Manuale di psicologia giuridica (1995, con G. De Leo) e Nuove questioni di psicologia politica (1998). All'attività di studioso, Assunto Quadrio ha affiancato quella organizzativa e direttiva, che lo ha portato a dirigere il Dipartimento di Psicologia dell'Università Cattolica e a fondare il Centro studi e ricerche di Psicologia giuridica, nonché il Centro studi e ricerche di Scienze cognitive e della comunicazione.
Biografia dell'autore
Patrizia Catellani è professore ordinario di Psicologia sociale presso l'Università Cattolica di Milano. Fa parte del comitato esecutivo dell'European Association of Experimental Social Psychology ed è consulente editoriale dell'«European Journal of Social Psychology». La sua attività di ricerca è incentrata sulle applicazioni della psicologia sociale ai contesti politico e giudiziario. è autrice di numerose pubblicazioni, tra cui: Il giudice esperto (1992), Psicologia politica (1997), Turning right? Socio-economic change and the receptiveness of European workers to the extreme right (2004, con Y. De Weerdt, H. De Witte e P. Milesi) e The psychology of counterfactual thinking (2005, con D. Hilton e D. Mandel).
Chi ha visto questo prodotto ha guardato anche...