Partners or Rivals?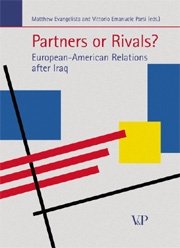 € 30,00
Spedito in 3 giorni
To what extent does the latest conflict in Iraq really mark a turning point in contemporary Euro-Atlantic relations? This is the conundrum at the heart of the book, interpreted by a multinational group of distinguished scholars skillfully gathered to shed light on the theme from different methodological and cultural perspectives. Confronting a subject of heated political debate, the authors pass over day-to-day recriminations to provide a much-needed long term analytical outlook. The contributions address questions such as the future role of the United States within NATO, the likelihood of the emergence of a militarily autonomous European Union, and Russia's role in today's international arena. Also under scrutiny are the Anglo-American "special relationship", the significance of the former Soviet-bloc countries controversially qualified as "New Europe", the impact of transnational peace activism, terrorism and organized crime, and the politics of the European Monetary Union. The book includes a series of brief, insightful commentaries responding to the chapters, establishing connections, and raising questions for further research.
Sommario
I. CONTINUITY OR CHANGE IN ALLIANCE RELATIONS?
II. THE "SPECIAL RELATIONSHIP"
III. INFLUENCE OF THE "NEW EUROPE"
IV. THE RUSSIAN FACTOR IN EUROPEAN-AMERICAN RELATIONS
V. TRANSNATIONAL POLITICS OF WAR, PEACE AND MONEY
Biografia degli autori
Matthew Evangelista
is Professor of Government and Director of the Peace Studies Program at Cornell University. He is the author of
Unarmed Forces: The Transnational Movement to End the Cold War
(Ithaca 1999) and of
The Chechen Wars: Will Russia Go the Way of the Soviet Union?
(Washington 2002). In the year 2000 he was awarded the Marshall Shulman Book Prize and in 2001 the Jervis-Schroeder Prize.
Vittorio Emanuele Parsi is Professor of International Relations at the Catholic University of Milan. He is the author of L'alleanza inevitabile. Europa e Stati Uniti oltre l'Iraq (Milan 2003, forthcoming Basingstoke 2005), co-editor with John G. Ikenberry of Manuale di relazioni internazionali (Rome-Bari 2001) and the editor of Che differenza può fare un giorno. Guerra, pace e sicurezza dopo l'11 settembre (also from Vita e Pensiero, Milan 2003).
Chi ha visto questo prodotto ha guardato anche...